Hi, everyone
I came to the conclusion that this year I won't be writing many reviews but I will write reviews about the books that have left an impression on me this year and maybe even my entire life. Books that have made me change a little bit.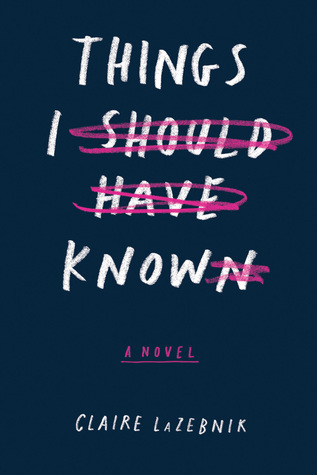 Things I Should Have Known
by Claire LaZebnik 
Published by HMH Books for Young Readers
on March 28, 2017
Genre: Contemporary Romance, YA
Rating:

Steamy Level:
From the author of Epic Fail comes the story of Chloe Mitchell, a Los Angeles girl on a quest to find love for her autistic sister, Ivy. Ethan, from Ivy's class, seems like the perfect match. It's unfortunate that his older brother, David, is one of Chloe's least favorite people, but Chloe can deal, especially when she realizes that David is just as devoted to Ethan as she is to Ivy.Uncommonly honest and refreshingly funny, this is a story about sisterhood, autism, and first love. Chloe, Ivy, David, and Ethan, who form a quirky and lovable circle, will steal readers' hearts and remind us all that it's okay to be a different kind of normal.
I saw this book in my goodreads timeline, I can't remember who marked it as to-read, but the cover was interesting enough for me to read the synopsis and, at first, I didn't want to read it, books like this one are too personal and overwhelming but at the same time I knew that somehow, some way I'll read it.
The thing is, this friend of mine saw said book in her timeline because I marked it as to-read. She asked me when we would start it as if it was an unspoken true that we will in fact read it as soon as possible. It was the most improvised joint reading I've ever had. So thank you, gul, for making me finish it even when I was too overwhelmed to continue.
I won't talk about the plot as I tend to do, just let me tell you that it's by far the most accurate book about a autistic person as on of the main characters. The behaviour, the constant questions, the blank canvas expressions ready to be molded so society don't feel endangered by them. Everything remarkable is in this book, simply and beautifully told.
Books like this are written to teach us how to accept the different. That there is nothing wrong in having autism. And that love, even when they can't express it, is an important part of what they are.